About Me
Originally from Chicago, international speaker, trainer, author, and double board-certified dermatologist and dermatologic cosmetic surgeon, Sabrina Guillen Fabi, MD, is a globally-recognized leader in cosmetic dermatology. Dr. Fabi is also an assistant clinical professor at the University of California, San Diego.
As the associate research director at Cosmetic Laser Dermatology, Dr. Fabi is actively involved in multiple clinical studies, including FDA clinical trials. She is considered a leading authority on Ultherapy and has pioneered many of its current applications, including its combination with other injectables and laser treatments to achieve a natural 3-dimensional rejuvenation on both the face and body.
Dr. Fabi believes in looking and feeling your best at any age and helps her patients achieve this through combining state of the art technology with the most up to date medical evidence, an advanced skill set, and an artistic eye. When you see Dr. Fabi, expect to be educated so that you are empowered to make the best decision when it comes to your face and body. She is a repeat recipient of the Patient's Choice Award, a national award bestowed upon physicians based on their patients' appreciation and praise for the quality of care and service they provide. She has also received the Compassionate Doctor's Award, Doctor's Choice Award, and RealSelf 100 Award. Dr. Fabi has been selected as a Top Doctor by Castle Connolly for ten consecutive years and received the Exceptional Women in Medicine Award for three consecutive years.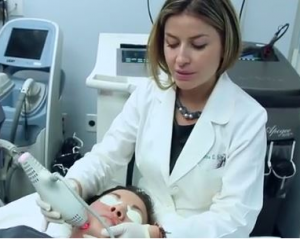 Dr. Fabi has authored over 170 medical articles, in addition to co-authoring 30 book chapters on various topics including cosmetic injectables, intense pulsed light, lasers, liposuction, cellulite, skin tightening and cosmeceuticals. As both a national and international cosmetic dermatology expert, Dr. Fabi has lectured in both Spanish and English in over 40 countries to over 80,000 doctors on aesthetic dermatology advancements.
These lectures focus on aesthetic dermatology advancements on how to use injectable fillers to optimize facial proportions while maintaining natural-looking results, using fillers and neuromodulators to reshape and redrape the face, skin tightening procedures such as Ultherapy® and thermTight to redrape tissue and threads to reposition tissue both on and off the face.
Dr. Fabi educates other physicians on various cosmetic procedures and also serves as a trainer in advanced injection techniques for Allergan (the maker of Voluma, Volbella, Kybella, Botox, and Juvéderm) and Galderma (the maker of Sculptra Aesthetic and Restylane Silk), and serves on the Global Faculty for Merz Aesthetics (the makers of Belotero, Radiesse, and Xeomin).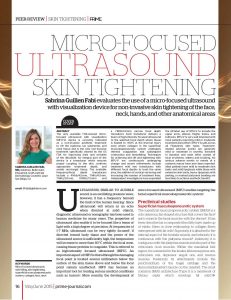 She also serves as a mentor for dermatology residents across the country through the Women's Dermatologic Society and American Society of Dermatologic Surgery and as a preceptor for the American Society of Laser Medicine and Surgery.
She is a medical correspondent on Fox News and has appeared numerous times on the Latin-American television network Univision to educate the Latino population on cosmetic medical advances, as well as the CBS show "The Doctors" and Australia's Studio 10. Her expertise is often sought after by numerous media outlets, including Vogue, Elle, Harpers Bazaar, Redbook Magazine, Teen Vogue, People, Dr. Oz Magazine, New You Magazine, Latina and La Raza.
Dr. Fabi sees all dermatologic conditions, but specializes in the following cosmetic procedures:
Facial restoration with injectable fillers and biostimulators to achieve natural results
Improving skin quality with a combination of lasers and injectables to optimize age perception and our visual certificate of health
Non-invasive skin tightening and contouring with devices such as Ultherapy®, ThermiRF (including ThermiTight, ThermiSmooth, and ThermiVa), Exilis®, CoolSculpting with Zeltiq®
, Ultrashape, and Liposonix).
Liposculpture, which she sometimes combines with skin-tightening procedures to optimize results
Volume restoration of the face with injectables such as Voluma, Volbella, Sculptra®, Belotero Juvederm®, Restylane Silk®, Restylane®, Radiesse®, & Perlane®
Contouring the double chin, jowls, and body with Kybella®
Cellulite treatment with Cellfina
Cosmetic laser surgery
Acne scar and scar treatment
Cosmetic laser surgery, including skin resurfacing, scar treatments, and photodynamic therapy (PDT) for acne and precancerous lesions
Endovenous ablation of varicose veins
Fat transfer
Medical dermatology – including acne
Dr. Fabi was born and raised in Chicago. Experiencing childhood bad eczema and cystic young adult acne, Dr. Fabi recognized early the power such superficial conditions can have on one's self-esteem and was inspired to go into a profession where she can help people look and feel better. She obtained her medical degree and graduated at the top of her class at the University of Illinois at Chicago College of Medicine, where she stayed to complete her residency training in dermatology. Further cosmetic surgery training included the completion of a fellowship through the American Academy of Cosmetic Surgery.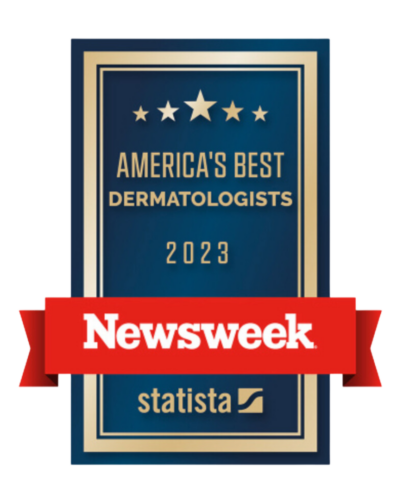 Her early interest in medical research took her to Mali, Africa through a program sponsored by the National Institutes of Health, where she contributed in the research and development of the malaria vaccine with the hopes of serving a deprived population. Her continued interest in global dermatologic conditions also led her to spend time at the National Skin Centre in Singapore.
She has received numerous investigative and leadership accolades including the Cutting Edge Research Grant through the American Society for Dermatologic Surgery (ASDS), Young Investigators Writing Competition, and the ASDS Future Leaders Network. She was named one of America's Best Cosmetic Dermatologists by Newsweek, topping the list at #8 in 2022 and moving up to #5 in 2023.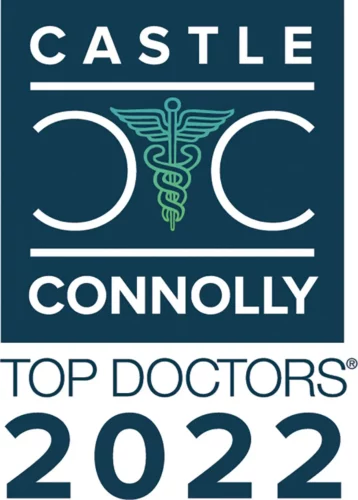 Dr. Fabi enjoys being philanthropic in the community by volunteering her time to increase skin cancer awareness through programs like the Skin Cancer Foundation "Road to Healthy Skin Tour," ASDS free skin cancer screens, complimentary breast cancer tattoo removal through ASLMS, and pro bono scar treatments through the Wounded Warrior program as well as annually donating and fundraising at the practice for the Susan G. Komen Race for the Cure in San Diego. Dr. Fabi has also been named a "Top Contributor" on the medical information site RealSelf!
Dr. Fabi loves cosmetic dermatology, and in her free time devotes time to teaching colleagues all over the world on injectables, lasers, and devices, so that collectively they participate in keeping patients looking natural while helping them look more refreshed. Outside of work, Dr. Fabi enjoys spending time with her friends and family, traveling, reading, and practicing yoga. Being of Hispanic descent, Dr. Fabi is fluent in Spanish.
Diplomat, American Board of Dermatology
Diplomat, American Board of Cosmetic Surgery
Voluntary Assistant Clinical Professor in Medicine/Dermatology, University of California
Associate & Associate Research Director
Goldman Butterwick Fitzpatrick Groff & Fabi, Cosmetic Laser Dermatology
To view Dr. Fabi's complete curriculum vitae, please visit here.
"I believe that we should be able to look and feel our best at any age. It's extremely fulfilling for me to help my patients achieve this by combining state-of-the-art technology with the most up to date medical evidence, advanced skill sets, and an artistic eye."